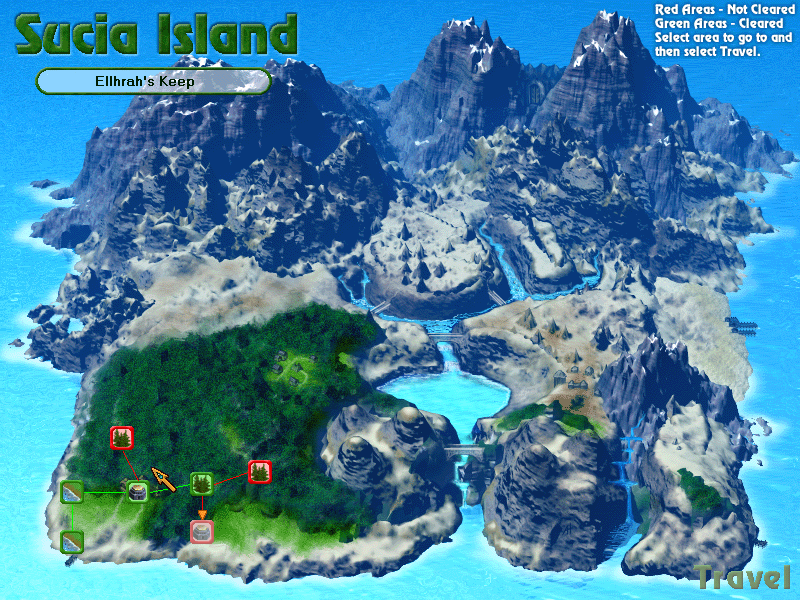 The most striking element of Geneforge's writing is how the factions are handled. Few AAA games manage the nuance Vogel writes into this very basic-looking game's major sides. The sects are characters in their own rights. The little secrets you can uncover — or overlook — add life to the whole work.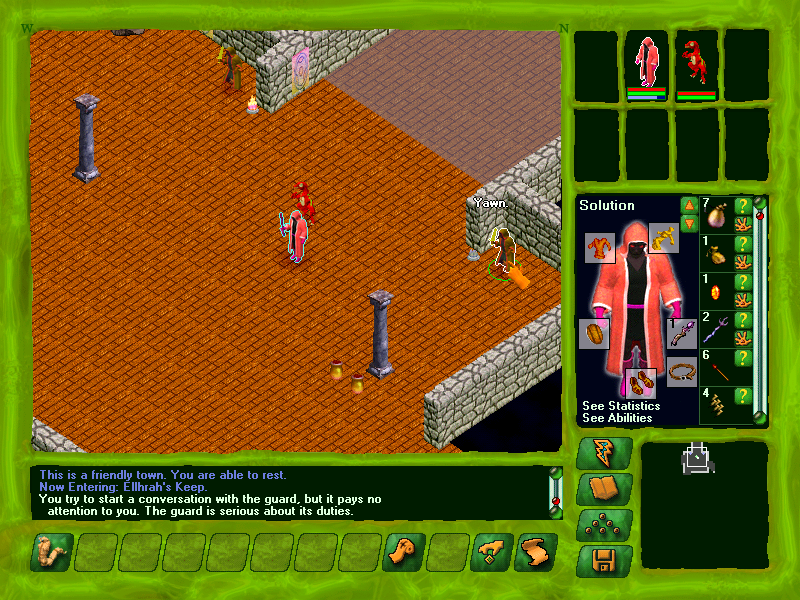 Game Text:
You enter the Keep of Ellhrah. This is yet another Shaper ruin, undoubtedly a massive barracks. However, the serviles here have done a good job of restoring it.

Most of the crumbling stone floors have been replaced with nice, new wooden floors, and many of the tapestries on the wall have been painstakingly repaired.

As you enter, you feel the eyes of many armed serviles on you. You are welcome here, but you doubt that they will tolerate any trouble.

As you pass the guards, one of them says, "Welcome, Shaper, to the home of the Awakened. Ellhrah awaits." The guard points to the south.
She has nothing else to say to you. The guards here aren't as talkative as the pair outside. You rest for a while and feel rejuvenated enough to try your hand at making a thahd.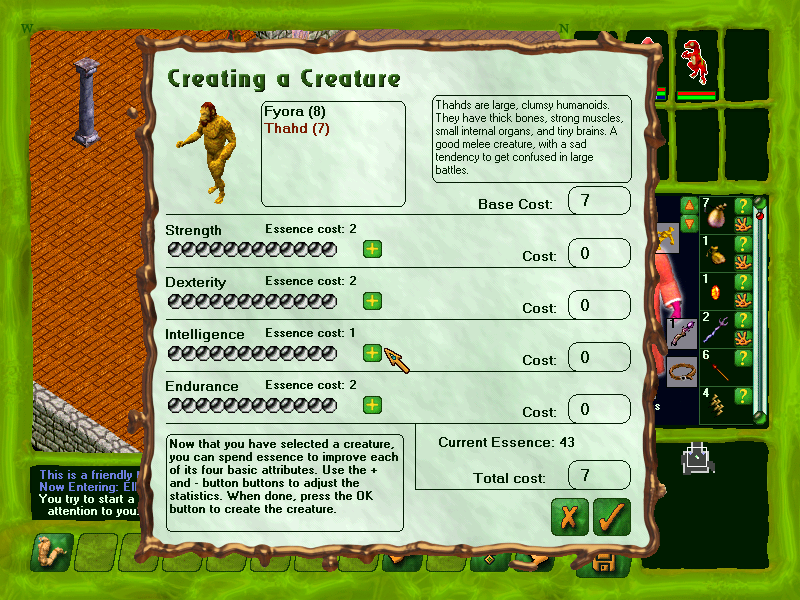 Thahds are what some Shapers call meatshields. They're huge, strong, and resilient, but almost impossibly stupid. The thahds would never accomplish in a thousand years what the serviles have done in a century. Of course, thahds are also sterile, so they would have gone extinct on Sucia Island decades ago if not for that spawner. Hopefully there aren't too many more thahds out there, but if there are, you're ready for them.
You take your time before seeking out the master of the fort. Ellhrah can wait. You need a better idea of what capabilities the Awakened have before you speak with him. That conversation will be more like a negotiation than you want to admit.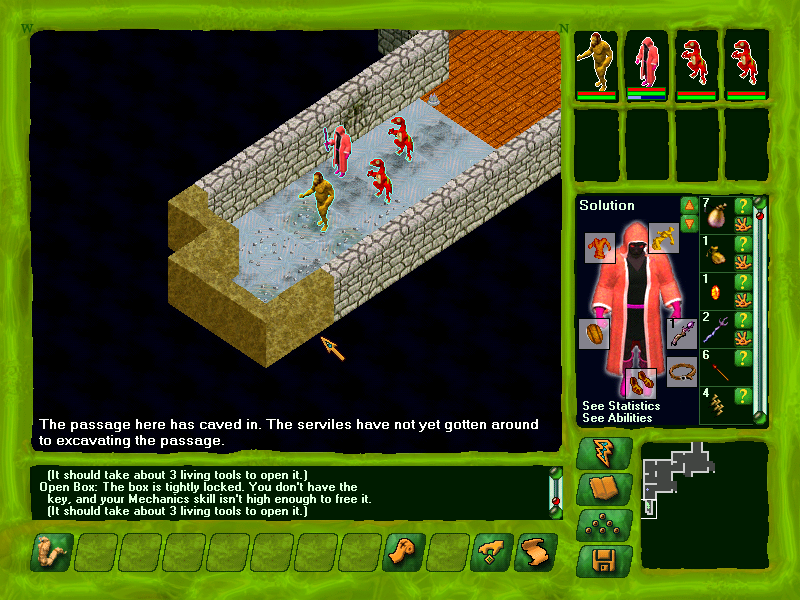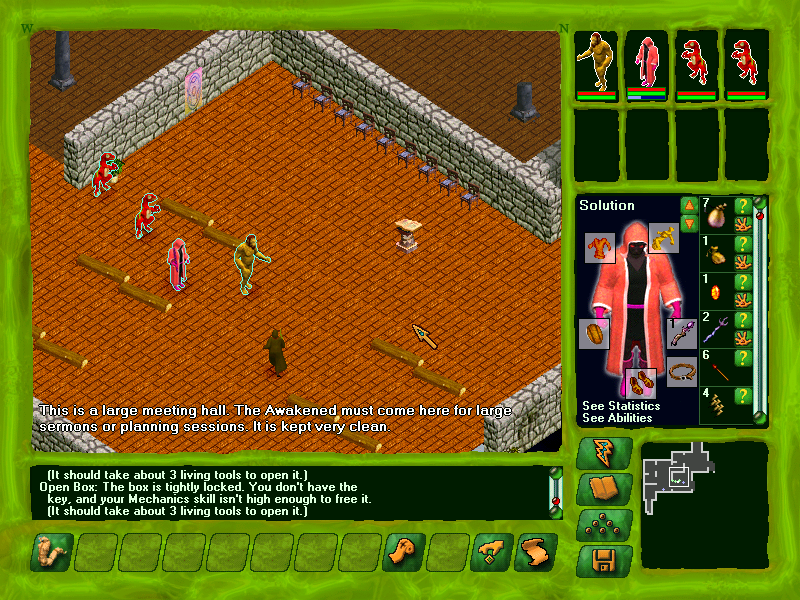 This is the most well-armed and armored of all the serviles you have met so far. He wears a heavy, iron breastplate, and a large blade hangs from his belt. After sizing you up, he says, "I am Swan. I am an Awakened and the commander of the warriors here. I train serviles in the military arts."
"What sort of training do you provide?" you ask. More armed serviles who style themselves as fighters… If they were actually any match for an apprentice Shaper, the forest beyond the fort wouldn't have been swarming with rogues.
"I teach serviles of the ways of war on Sucia Island. I also know some tricks that might help you, Shaper. Though I am but a servile, I have learned much in my many years of fighting here."
You doubt he has much to show you, but you're stretching your diplomatic muscles. They got you into a Shaper apprenticeship; they might help see you off this island, too. "How do serviles fight here?"
"Desperately. And with a mix of our own weapons and Shaper artifacts. Some use mundane weapons. Swords and javelins. Some use the living weapons of the Shapers. The batons, which fire thorns. Some serviles have learned how to breed the batons together, and grow the plants which produce the thorns as fruit." That's a little startling. Such projects are the domain of Shapers. Of course, thorn batons aren't sterile like thahds, so Swan's boasting is within the realm of possibility. "And a few use the crystals and wands. They are Shaper artifacts, powerful stones and staves which unleash powerful magic. These are hoarded and only used in great danger, as we can't make more."
Thank goodness for that. "Can you teach me?" you ask, bemused.
"I'm afraid not. I will only share my deadliest knowledge with my fellow Awakened," Swan says. He watches you carefully, concerned about your response. All of them are.
"I am impressed by your ingenuity in learning how to fight for yourselves," you say. You are, but you're also concerned and starting to be a little frightened.
"I am glad that you feel that way. I am sure that not all of your brethren will be so tolerant."
You don't respond to the implied question. You can't speak for the Shapers, let alone the Council. You're a nobody. Not that Swan or any of these creations need to know that. "Tell me about being Awakened," you say instead.
"I can, but I will not. Ellhrah is nearby." Swan points to the south. "I teach about mere weaponry. He is the one who teaches of freedom."
"What battles have you had to fight recently?" you ask. You didn't see many signs of fighting during your march through Watchhill, but thahds are stupid enough to blunder into the front doors of a fort.
"Of late, our foes have been limitless. There have been the rogues coming out of Watchhill. The roamers on the thorny tens. And, worst of all, Warp the vlish." Swan's concern is palpable. The rogues from Watchhill had probably cut Ellhrah's fort off from Vakkiri, and the fields you saw are nowhere near enough to sustain a population of this size. "Thank you for settling the mystery of the rogues coming out of Watchhill. From now on, we know to watch for those horrible spawner creatures, and to destroy them as soon as possible."
"Tell me about the Thorny Fens and Warp."
"The fens are east of here, just north of the water. It is a region between here and Pentil, full of roamers. They are particularly cunning. They stalk their prey, waiting until enough additional roamers show up. Then they pounce.
"Warp is a vlish." The vlish are particularly intelligent creations, used for communication and reconnaissance. "It lives in a ruin in Crag Valley. It hates us. It has roamer servants, which it sends to harass and ambush us. I have tried to kill it many times. And always it evades me. One day, l fear, I will make a mistake, and it will devour me," Swan says.
"Could you help me destroy Warp?" A rogue vlish is a horrifying thought. Vlish can communicate with other creations with exceeding ease and have mental capacities nearly on par with true magic. If you could gain control of Warp… You banish the fleeting fancy from your thoughts.
"Ellhrah and I disagree on this issue. He has an item which might help you destroy Warp. But you would have to be very convincing to ever get him to tell you about it," Swan says. Despite your cajoling, he refuses to say any more on the matter than that.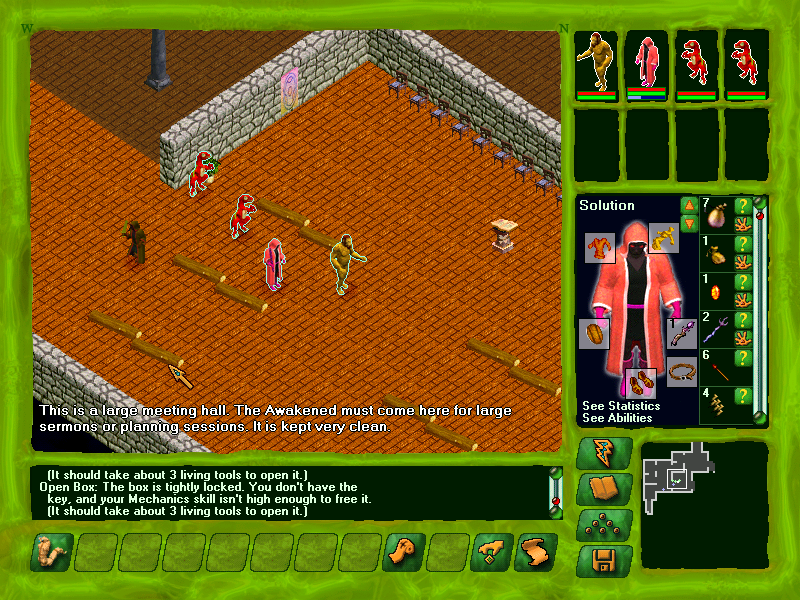 You check out the book on the northern side of the meeting room.
Game Text posted:
This book is full of speeches describing the beliefs and views of the Awakened. Serviles must meet here to hear sermons about their beliefs.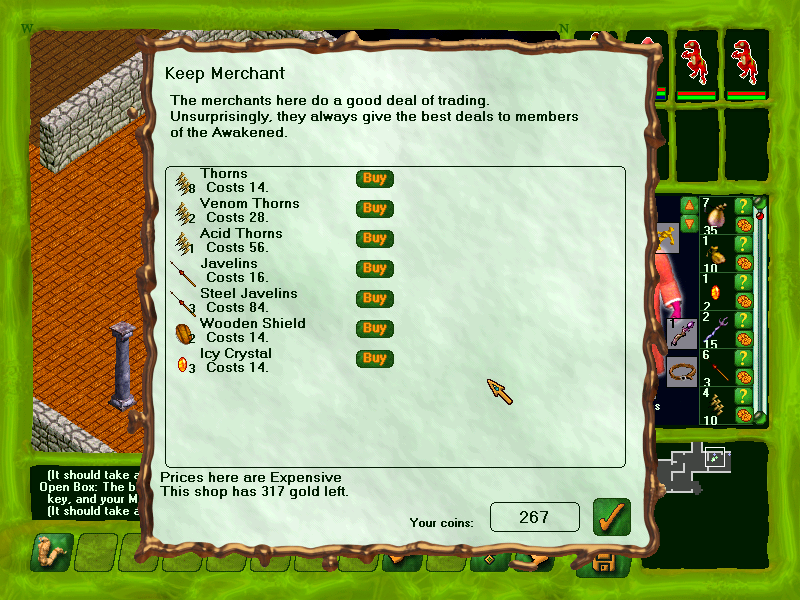 You head east. This section of the keep is dedicated to commerce. Several merchants have come here to buy and sell wares, both servile-made and Shaper artifacts. One of the merchants has homed in on you.
"Greetings, Shaper. It is an honor to meet one of your powerful and wise order. May I interest you in some of my humble wares?"
You take the opportunity to offload some of the Shaper-made goods you discovered while clearing out the thahds and the spawner. The jingle of coin is reassuring as you explore the fort further.
The refinished flooring ends at a narrow passage in the eastern wall. The merchants have put their stalls well away from this little hallway.
Game Text posted:
This section of the keep has not yet been restored. The stone floors are still here and still crumbling. Along with the walls. The passages are icy cold. Very odd. The thick frost on the floor indicates that no serviles have been back here for a while.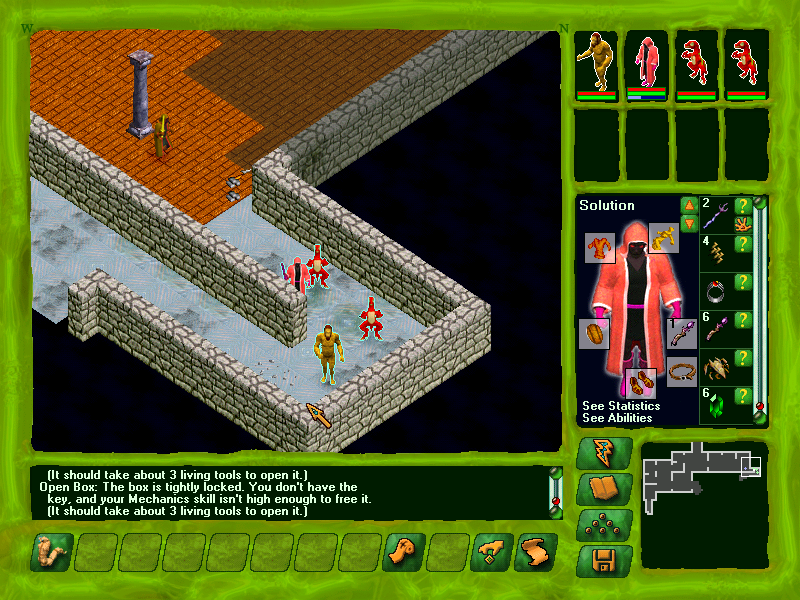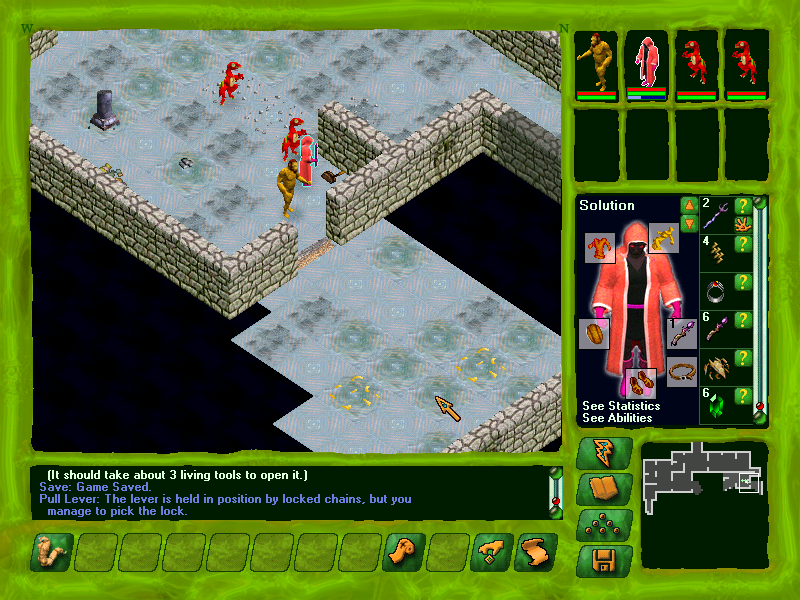 The cold gets to you before long. Fortunately, the passage extends west, into a central gallery with a fresh, clear reservoir of water.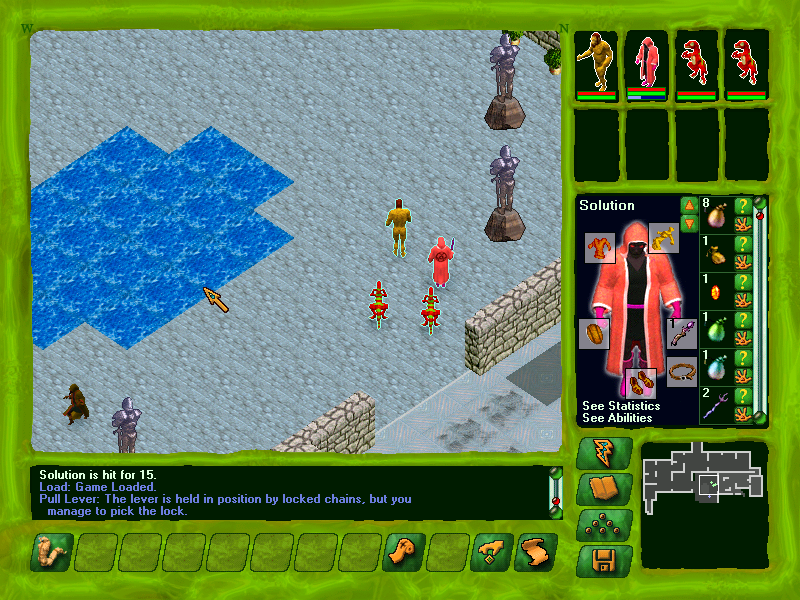 You meet a quiet, shy servile. She paces back and forth around the pool. When you get close, she says, "Hello. I am Ting." Then she smiles and looks down. "I've been wanting to say something to you."
"What do you do here?" you ask.
"I cook for the fort. Not for Ellhrah, though. He cooks his own food. He's very nervous about things."
"You said that you wanted to say something to me? What?" you ask.
"I know something interesting. Something useful that is hidden here," Ting replies. Her vagueness tips you off that this is still more servile intrigue.
You gesture for her to go on.
"There is a wand hidden at the south end of the fort. Down along corridor, then west, then pasta guard, then past a door. Even if you have no keys, you can get there through the ruined parts of the fort."
"What sort of wand?" you ask, cautiously hopeful.
"It's a powerful Shaper artifact. It can destroy just about any Shaper creation it's pointed at. Poof! Even Ellhrah and Swan and his guards! Poof!"
You start to feel a little excited, but you tamp down on that before your expectations get out of control. "There's a guard?"
"Yeah, but he's lazy. He walks into the crumbling corridor by his guardpost to take naps. If you watch him, you can walk by him," Ting says conspiratorially. Of course. All serviles are lazy by nature; that's part of why they require close supervision by Shapers or appointed overseers.
"Why are you telling me all this?"
"I know you talked to Nabb. I know what he told you to do. I'm to help you."
Nabb or one of his Taker friends must have made the run between Vakkiri and the fort while you were investigating the bandit woods. You almost admire the courage it must have taken whatever servile evaded all the rogues in Watchhill. You give Ting a minute shake of your head and move on. You'll take that wand if you can, but you're not interested in involving yourself with servile drama right now, not if you can avoid it.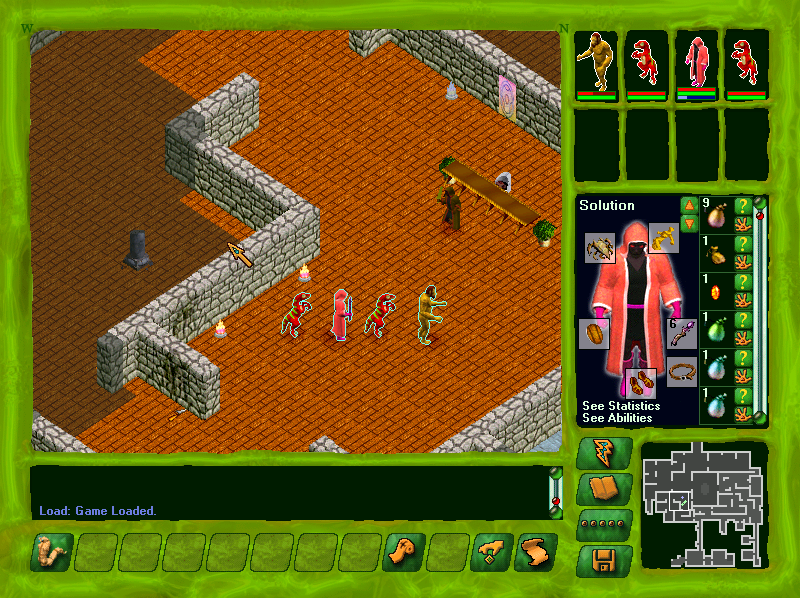 With that unsettling encounter out of the way, you head towards the center of the fort. It makes sense that that is where the leader of the Awakened would await you — right there in the center of his power, a spider in the middle of its web.
A spider is still just a bug.
You meet Ellhrah, servile leader and wise one. He doesn't look exceptional. He is strong and armed, but no more imposing than many you have met here. He is neither old nor scarred.
Yes, he is unusual. When he looks at you, he stares you straight in the eye. He is not afraid of you. He knows that the Shapers could destroy him in a minute if they wanted. And yet, he is unafraid.
"Welcome, Shaper. Welcome to our home. I am Ellhrah, of the Awakened. Since I heard of your arrival on our isle, I have eagerly awaited your visit. I desire to speak with you."
Ellhrah is polite, at least. "I want to know more of the Awakened." You decide not to tell him about Ting and Nabb for now. That kind of information might be useful to you later, if you need to bargain for a boat.
"I am glad to hear it. The meaning of my entire life is to tell more of our sect and our beliefs. I am glad that you have come to speak with me before supporting a different sect. I am sure you find that our views are the wisest on Sucia Isle."
"What do the Awakened believe?" You've heard from several other serviles, but now you can hear the rebellious words directly from the lips of their leader himself.
"We believe that the Shapers created us. However, we also believe that, while we should be grateful, we should no longer be your slaves. We wish to deal with you as intelligent beings, and as equals. We believe in fair trade for goods and services. For anything we give you, we expect fair compensation, and for anything we take from you, we will pay. We believe that we and the Shapers can live together in peace and mutual support. And, most of all, we want peace and dignity," Ellhrah says, utterly composed as he speaks words going against centuries of Shaper conditioning.
"I am surprised to hear myself saying it, but your views make sense. I never realized before I came here that you serviles could look after yourselves," you reply. If all serviles are capable of what you've seen so far, they could, perhaps, be nearly as independent as people. Still… Your kind created the serviles. Hearing yourself agree with even an iota of sincerity is shocking. If your new masters heard you now, you'd be sent straight home and probably watched closely for the rest of your natural life. And that's a best case scenario.
Ellhrah smiles. "You are the first Shaper one of our kind has ever met. That we could convince you gives me real hope for the future."
"I have another question," you admit.
"So do we all. What interests you?" Ellhrah seems truly eager to talk to you — to, in fact, have a dialogue with you.
"Why did the Shapers abandon Sucia Isle?" This question nags at you. The land doesn't seem poisoned, and the rogues are weak enough to be defeated by an experienced apprentice. None of the non-servile creations you've encountered so far can reproduce. Even the spawner could only create sterile fyoras and thahds, and only until it ran out of those foul essence ponds. Whatever original creations were here would have died off long ago. Perhaps drayks might survive, but even one of those is unlikely to cause a whole outpost to be Barred.
"We know that it was a cruel act, abandoning the serviles the way they did, but we do not know what caused it. Speak with Learned Pinner in Vakkiri. She may be able to help you learn more."
On this point you must finally agree with the Awakened. It was cruel of the Shapers to leave the serviles behind, if the reason the island was barred has nothing to do with the serviles themselves. You haven't found anything to prove or disprove that hypothesis. Serviles are fragile — clearly less fragile than everyone'd always thought, but still — and sensitive. Leaving them to fend for themselves was a failure of the Shapers' duty to protect and provide for their creations.
Even ornks are owed a duty of care. You feel a keen sense of regret and even shame for the actions of those long dead Shapers, the same sour feeling you had when talking to poor, simple Tavit back at the quarantine checkpoint. You hope that whatever has happened here justifies the Shapers' choice to abandon their serviles.
Still, Ellhrah has told you nothing you haven't heard already. "I've found many strange canisters on this island. They seem to make me stronger. What are they?"
"They are unusual Shaper technology. Serviles can't use them. They kill us instantly. The Shapers made many of them before they abandoned this isle. That is all I know," Ellhrah says. He's telling the truth, you think. At least his story is the same as Learned Pinner's. "I can easily spare time to speak with one of your kind. What else do you want to know, Shaper?"
"There is much I would like to learn about this island. Have you been attacked by many rogues lately? What other villages are near here?"
"It is impossible to travel around here and not know the answer to your first question. We have faced much turmoil and danger recently. However, since you cleared out Watchhill, we entered and found the remains of that strange creation-spawning creature. We have no idea who might have made such a cruel horror. We hope that you can find them.
"As for the other… You have already been to Vakkiri. That is, I feel, the wisest and strongest of the servile outposts. Pentil is to the east. You can get there by traveling east or north from Watchhill. Both routes get you there eventually, though the path to the east is full of dangerous rogues. Pentil is occupied by the Obeyers. They worship your kind, to an extent that upsets me. Farther east is Kazg, home of the Takers. They hate Shapers. Be forewarned."
You've already met some Takers. The only faction you haven't encountered yet is the Obeyer village. Or if Clakkit's words are to be taken at face value, there might be a fourth group here, the mysterious strangers. The serviles haven't mentioned any other Shapers, but someone must have put that spawner there if the rogue troubles in Watchhill only started recently. Only a very mad Shaper would make a creation like that spawner.
"Can you tell me more about them?"
"In Pentil, you will find the Obeyers. They not only want to obey the Shapers, they worship you. The name of our kind is the serviles. But for them, the title truly fits. Farther east are the Takers of Free. They hate your kind. They long for nothing more than to die in a futile war against you. If you visit them, tread very carefully. They are dangerous."
All of the Awakened you've met seem to truly hold their Obeyer counterparts in contempt, which only intrigues you more. Loyal serviles should be able to aid you. Perhaps you can even help them leave Sucia Island and return to the fold. As for the Takers… The Awakened seem to want you to think they're all suicidally hostile, but Nabb and Ting have only proposed unwise schemes. They haven't tried to hurt you. What they wish for doesn't sound very different from what the Awakened propose — independence — and what's more, they're willing to actually give you something potentially quite valuable in exchange for your support. Unlike the Awakened, who keep sending you around on errands, mopping up rogues despite the way so many of them flaunt weapons and even alchemical goods…
You find that you're pursing your lips, so you make a conscious effort to relax your face and present a more open, friendly look. "I wish to join the Awakened. I will support your fight for dignity." Maybe Ellhrah will have read your expression as serious consideration instead of consternation. You wish now more than ever you weren't alone. You have no desire to ally yourself as an equal with any of these serviles. At home, they'd be handling the laundry and spooking at ornk shadows. Here, they're trying to embroil you in political conflicts and occasionally rob you.
Ellhrah brightens immediately. He'd clearly hoped for this, but hadn't completely expected it. "Your words and deeds make us feel that you might truly support us. Now, if you perform a bold deed to aid servile independence, we will let you join us and make you one of our own."
"How can I help you?" Still more tests. You decide to just consider this preliminary practice for whatever the Shapers will throw at you during your apprenticeship. "What sort of deed do you want done?"
"North of here, west of Crag Valley, is another Shaper ruin, this one in worse shape than most. It is full of rogue roamers and an intelligent and evil vlish named Warp. Its ambushes have slain many serviles." Ah, the same creation Swan hates so much. "Warp is controlled by an old but still living servant mind called Control Four. It hates intelligent serviles. It wants to destroy us." As it should. If you can make contact with a loyal servant mind, it might be able to help you plan your escape. "If you can destroy it, we will be much safer. Do this thing, and we will gladly make you one of us."
You've finally gotten some valuable intelligence from an Awakened that didn't involve being told to speak to another servile. Still, fighting a strong vlish isn't a task to rush at head on. "It sounds like a very difficult quest. Surely you can give me some assistance?"
This is another Leadership check.
Ellhrah thinks for a while. "We have a weapon. A Shaper weapon, used only to destroy creations. It is an evil thing. But Warp is a great danger. We can let you use it," Ellhrah says. He hands you a bronze key. Ting told you the truth after all. "The rod you seek is in the old, crumbling chambers south of here. Show this key to the guard to pass. Good luck."
"One more thing before I go. I'm looking for a boat," you say. "I want to escape this island."
"I can understand your desire, but I can't aid you. I do not know where a boat might be found. You might try searching the villages to the east, but their beliefs are very backward. I can't recommend going there if you can avoid it," Ellhrah says.
If the Awakened can't help you find a boat, their usefulness to you is very limited. Ellhrah clearly doesn't want you to head east, but he's not offered you any incentive to help him, either.
You pass the barracks and make your way south to pick up Ellhrah's wand. Anything that can give you an extra edge will be a real boon, even if you don't use it do what Ellhrah's asking of you.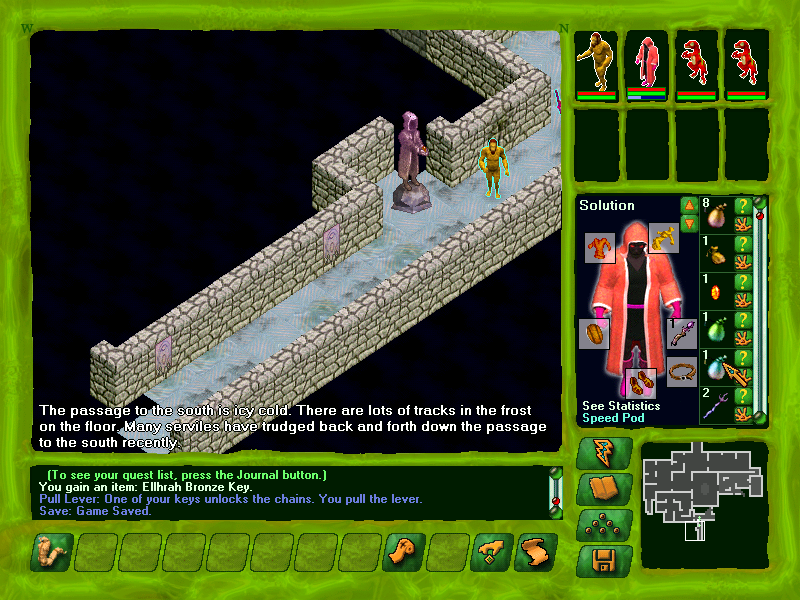 The icy corridor is tight and the Shaper statues poking out of the alcoves only make maneuvering a thahd and two fyoras even more difficult. The fyoras bite at the statues' toes and the thahd keeps getting spooked. Eventually you find an automatic door at the other end, which you open.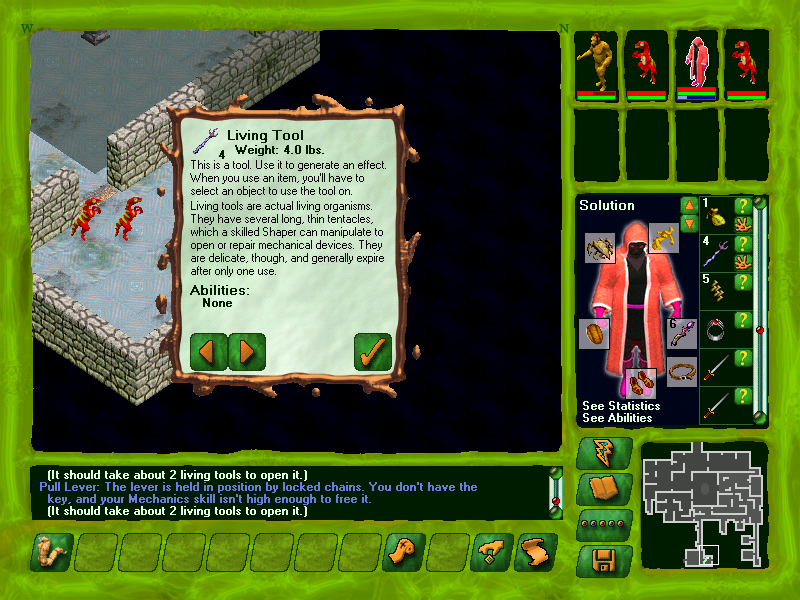 Living tools are extremely useful. You've improved your tinkering skills since washing up on Sucia Island, but living tools are truly amazing pieces of Shaper technology. You've only rarely had the chance to use them before.
You slip into the next chamber. There's no guard here, but you do smell decay.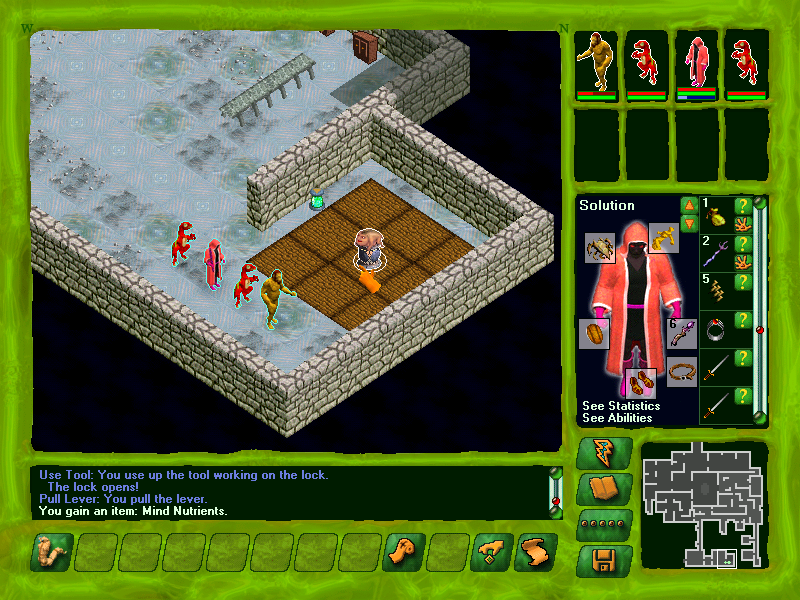 Game Text posted:
You find a servant mind. There's no need to try to speak with it. It is clearly dead. Someone struck it with a large, bladed weapon, perhaps twenty or thirty times.

The cold of these chambers have kept it well preserved. It can't have been dead more than a few months.

Seeing one of the Shapers' most loyal servants butchered like this is greatly upsetting, to say the least.
Ellhrah didn't mention this. Control Number Four may only be defending itself. You start seriously considering Nabb's proposal to put Ellhrah down. It takes you some time to master yourself, because to your surprise, you're trembling.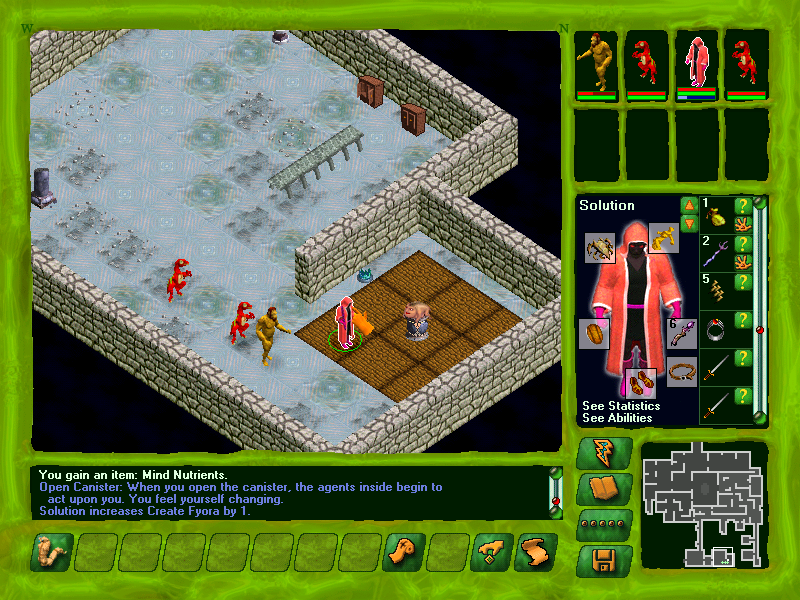 You use the canister nearby. The agents therein work their magic on you, soothing your anger and rendering it distant enough to be useful. You won't snuff out Ellhrah and his puny, rogue cult yet. They might still have some use that you haven't yet discovered. The canister whispers the secrets of fyora creation to you. Suddenly you have insight into how you can make your next fyoras stronger, faster, better.
You finish investigating the servant mind's chamber. Inside a locked case is a ceramic jar full of a thick, brown fluid. You recognize it. It is a nutrient solution, used to revive aging servant minds. This could be very useful. You keep it.
Back in the hall, a servile guard stumbles into you. It takes a supreme effort of will to not have your fyoras roast him after the abomination you've just seen. This guard looks very sleepy, but he wasn't too lazy to not notice you. He looks like he was just napping.
"Halt! You're not supposed to be back here! Prove you can be here or go back!"
Again, multiple options. 1. All right. I'll head back right away. 3. Ellhrah gave me permission to come back here. (Lie) 4. Well done, servile. You do the Awakened proud with your vigilance. I will commend you to Ellhrah, instead of telling him how you were sleeping at your post. (Lie)
"I'm allowed to be here. Look," you say, and flash Ellhrah's key.
That plus your surly demeanor persuade the guard that he'd really rather have another nap than deal with you. You pass him by and use the key to unlock another automatic door.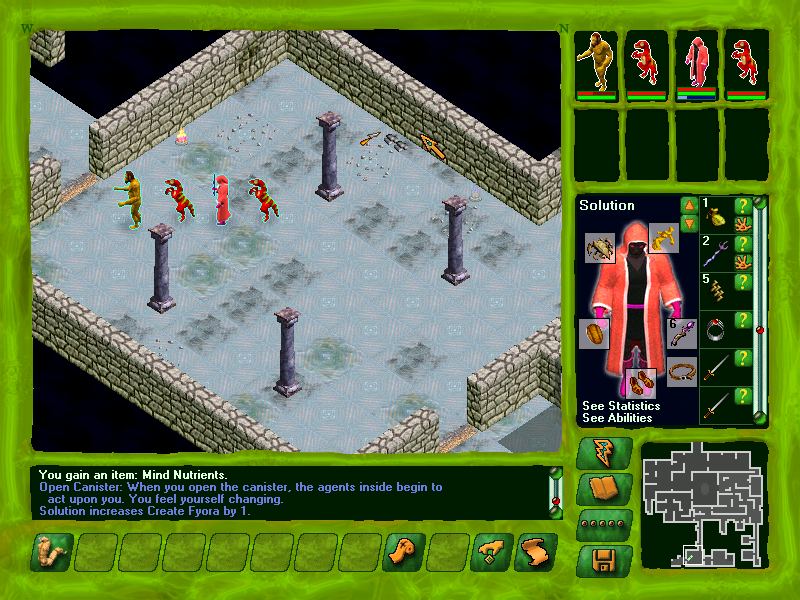 Game Text posted:
You recognize the item on the table. It looks a little different now, but you still have no trouble identifying the artifact.

It is a Discipline Wand. It is the Shaper's last line of defense against rogue creations.

All creations are made to be vulnerable to certain poisons. This wand sprays a venom which is deadly to creations, but harmless to humans and natural beings.

You can understand why Ellhrah hid it so carefully. Now it is yours.
You find a third canister here; it grants you the secret of purging poisons and soothing chemical burns. You're finally glad you've come to Ellhrah's fort — you've seen the true face of the Awakened and you've gotten to use three more canisters. You feel more powerful than ever.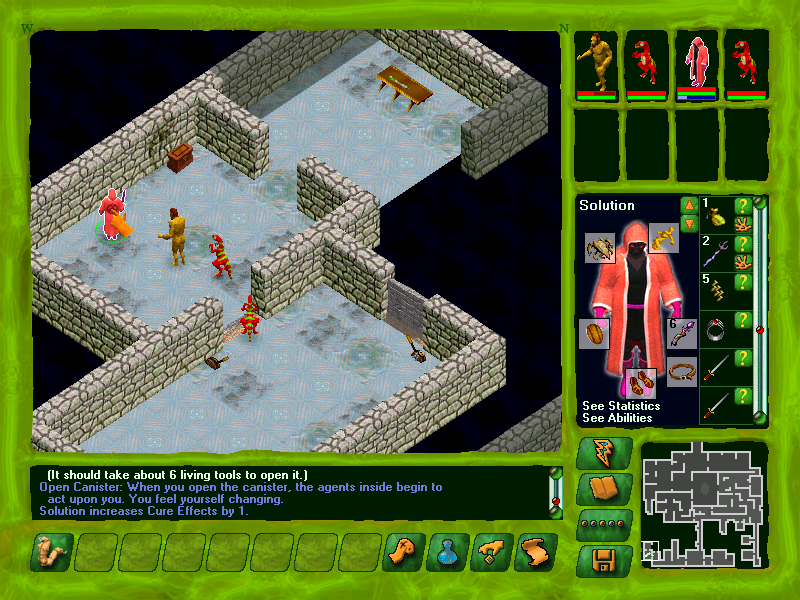 You backtrack and finish exploring the rest of the abandoned, frigid section of Ellhrah's fort. Several passages have collapsed and haven't been repaired by the serviles. With the exception of the guard's patrol route, the only signs of servile activity back here are quite old. It seems that renovation has been delayed for a very long time. Now and then you detect a suspiciously familiar sound. Before long, you discover the source.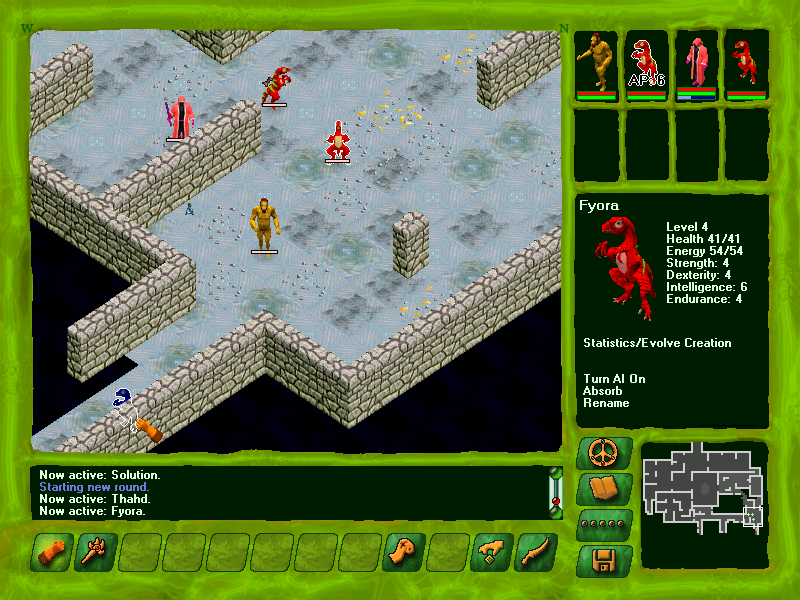 The eastern reaches of the fort are home to a pair of cryoas, deadly little creatures that give your creations a real workout. The cryoa is a modification of the fyora, with freezing spittle rather than a fireball. Cryoas are a little hardier than the base creation, but you're not sure how these two got back here or where they could've come from.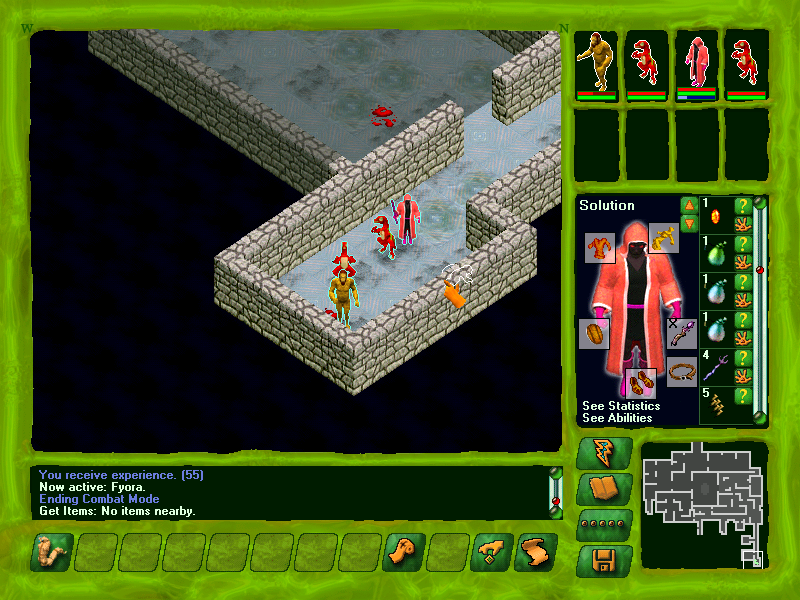 At the end of the cryoas' nesting hall, you find the half-frozen corpse of a servile. Who knows how long ago this one went missing. Nobody mentioned disappearances back at the fort. Perhaps it's a Taker infiltrator who's met a bad end. There are no clues on the corpse. You also find another canister. This one improves your ability to cast firebolt, which isn't soothing, but is terribly satisfying.
You decide you've had enough of the fort for now. If you hang around much longer, you might just use the Discipline Wand to terminate Ellhrah and every other servile you see. What you really need is another canister.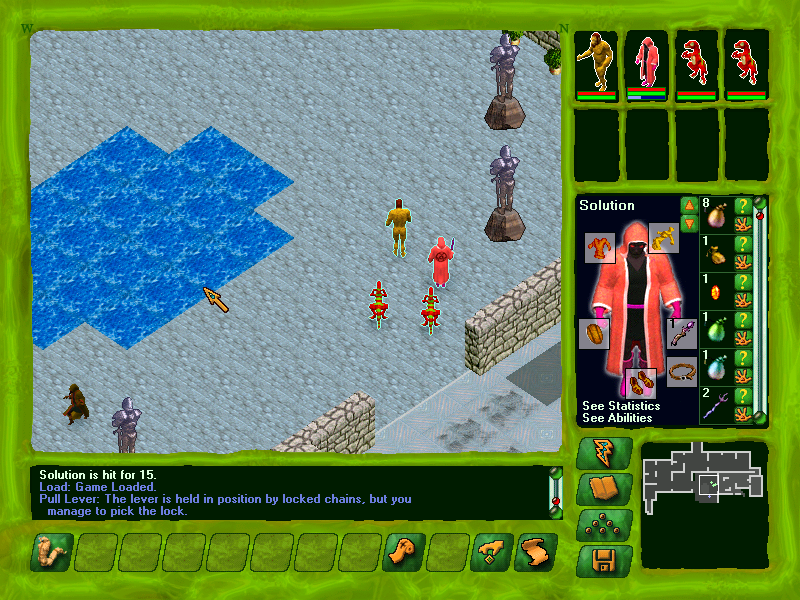 Here's what it looks like when you die! My helpful hint here is don't die.