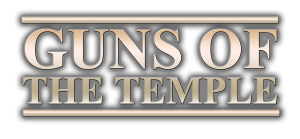 Is finally about to release!
After nearly 3 years in the making, Guns of the Temple will finally be on sale August 5th, 2016, and will be available on Amazon and Kindle Unlimited!
---
The Argead Dominion is the last holdout against the Imperial Padishah's brutal westward expansion. An aging arsenal of decaying tanks and antique rifles lets Argead forces scrape by, but true victories are won by the Polaris: elite battle-mages enslaved for the world-ending sins of their ancestors.
Taki is an ambitious Polaris stuck with the dregs of his kind in a squad named Tirefire the Lesser. Though career suicide might be bearable in the right company, his new companions are anything but. The sniper despises him, the man-at-arms is profoundly depressed, and his beautiful captain has a penchant for beating her underlings.
As the invading horde draws closer, this squad of defectives must band together despite the long odds against them. But with Imperial assassins out for their blood and treachery from within their own ranks, survival will come with a high price. 
---
Now, if you want to read and review our book before everyone else, we invite you to become one of our advance reviewers!
Advance reviewers can download and enjoy a free copy of the book right now! What we ask is that on release day, August 5th, 2016, please leave your honest review on Amazon.com on this book's page.
Don't worry about the length of your review. Some people write walls of text, and some write a few words; it's all good. Basically, if you enjoyed the product, want to see more, and would ever recommend it to a friend, a review is the best way to tell everyone else. If you find any typographical or grammatical errors, or if you don't enjoy the book, please email us. Your feedback helps us improve!
To get the link for the book download, please sign up for our mailing list using the form below!